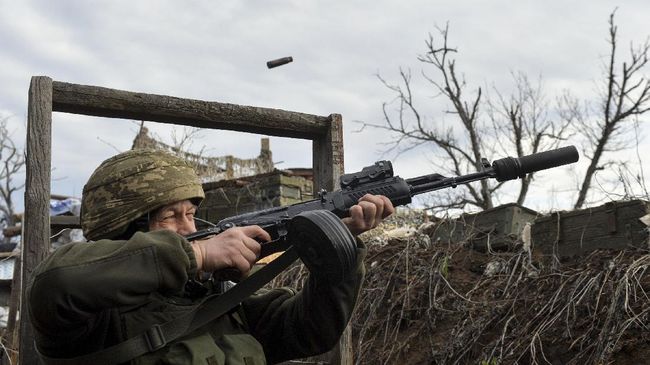 Jakarta, CNN Indonesia –
Thousands of soldiers Russia deployed near the border Ukraine which prompted Kiev to appeal to Western countries for help, especially United States of America.
According to Ukrainian intelligence reports, Russian and rebel forces are strengthening coordination and are expected to launch attacks in mid-April.
The following are the latest facts regarding the escalation of tensions between the two countries.
Clashing Since the Beginning of 2021
Ukraine has been battling pro-Russian separatist groups in Donetsk and Lugansk since 2014 when Moscow annexed Crimea from Kiev.
Ukraine and pro-Russian separatists in the region agreed to a ceasefire in 2020. However, tensions have resumed in early 2021 after clashes involving artillery and mortar fire.
At least 29 soldiers have died since early January, a significant number compared to the 29 killed during clashes in 2020.
Deployment of Russian troops
Ukraine accuses Russia of deploying large numbers of troops near the border. Ukrainian officials say at least 41,000 troops have deployed Moscow to the east of the border and 42,000 to Crimea.
Russia has not denied this, insisting that the troop deployment is "not a threat".
On Tuesday, Russian Defense Minister Sergei Shoigu confirmed they were sending thousands of troops to the east and south of the border.
According to him, this was done by Russia in response to "threatening NATO actions."
Shoigu said two Russian army units and three air force units had been deployed to the region for three weeks to hold exercises.
US intelligence called the deployment of Russian troops to the border the most since 2014.
Western Countries Support Ukraine
European countries and the US supported Ukraine by criticizing the movement of Russian troops.
The US military in Europe has increased its alert status in anticipation of all possibilities.
US and Ukrainian diplomats even held an emergency meeting in Brussels regarding the Russian maneuvers.
Kiev urges Western countries to provide practical support. Ukrainian President Volodymyr Zelensky has even urged NATO to accelerate his application for membership in the defense pact, which Russia has been fiercely opposing.
Why now?
Some observers argue that there are several reasons that trigger the escalation.
Quoted AFPBoth Ukraine and Russia may be testing the US in President Joe Biden's era regarding the extent to which the White House is willing to defend its allies and confront Moscow.
So far, Biden has shown a firm approach to Russia, with the 46th US President likening President Vladimir Putin to a killer in one of his media interviews last March.
Other analysts think Russia may be sending a signal to Ukraine to lift sanctions Kiev imposed on one of Modkoe's politicians and businessmen, Viktor Medvedchuk.
Medvedchuk is a close Putin ally.
Several other parties think that the Kremlin is only looking for unifying sources for the nation ahead of the legislative elections in September.
Possible War?
Some analysts say Russia's invasion of Ukraine will not happen for now.
"However, this is indeed the lowest level in Russia and NATO relations. The worst moment since the end of the Cold War," said military analyst Kashin.
"Russian rhetoric is overwhelming – never heard of this intensity since 2014 and the annexation of Crimea," said Timothy Ash, analyst at BlueBay Asset Management.
(rds / dea)


[Gambas:Video CNN]